07/02/2008
It is the first day in lunar 2008. And it is quite busy for me. Because it would be the last Spring Festival before I go abroad. It is waste of times to do nothing.
I upgraded the Multi blog system. I changed the application from phpwind to WordPress. It is powerful and profession. But there is a weak points to the WordPress. The function is so strong that many bloggers can not use it well. Because I was confused when I searted to use this system in July,2006. But it is stable and there are many themes and plugins on the Internet.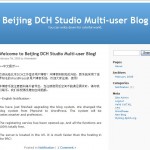 I also updated my blog today. I converted the version from 2.3.0 to 2.3.3. It is not smart to use old version for a long time. Because there are some security issues if you did not upgrade your products.
To be honest,I attended to cancel the multi-user blog system & BBS. There are so many free-blog-resource on the Internet. But it is meaningful for overseas students,esp. my classmates.
It would be the last time I re-new the forum. (Maybe,maybe not.)There are many valuable passages in the forum. I did not find a way output the articles.